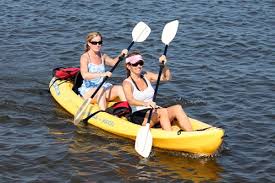 Kayak - 2 Person "Malibu Two XL" Ocean Kayak
Regular price $175.00 Sale
The rental of this Kayak - 2 Person "Malibu Two XL" Ocean Kayak is a great addition to any vacation and includes an attached seat-backed cushion and double ended paddles. It holds any two people whether they be parents and their child, friends, couples, or even you and your dog. You will be able to cruise together in the Gulf of Mexico, Mobile Bay, Little Lagoon, or any of our other beautiful waterways to see dolphins, fish, and other wildlife while riding the waves. What better way to share an experience first-hand why the Alabama Gulf Coast is one of the best rated outdoor recreation stays in the Southeast. Our area is filled with so many great waterways for kayaking you'll never run out of great places to explore, and the best part is that we deliver it to your beach vacation home at no additional charge.
This 2 Person Kayak is very sturdy, easy to use, and fun for all ages... even the least experienced user. While exploring the various waterways is exciting, this kayak is an area staple for using in the Gulf of Mexico. They are built with incredible craftsmanship and while riding our kayaks you'll feel the Beach Bum difference. The smooth ride and effortless paddling make for an enjoyable experience and will have you feeling so at-one with nature, that you will be craving for the experience again and again. Call us for additional details, we can't wait to see you out there.
Click the link to view our other great Water Sport products to add to your fun- Beach Water Sport Equipment.
Alabama law requires that everyone wears a USCG Approved PFD when using any kayak. If you are not able to bring a life jacket of your own, please let us know to add one to your order.
Price is per week.