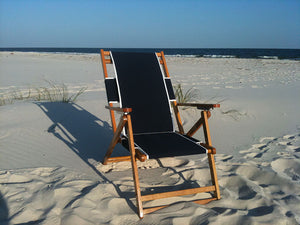 Beach Chair - Wooden Lounge Chair
Regular price $45.00 Sale
This Wooden Beach Chair Lounger is one of our top sellers and for good reasons! This reclining beach chair sits up straight, reclines back, or anywhere in between. It also has a high back and is low enough to the ground so you can throw your feet in the sand and water and relax for hours, but at the same time is easy to get in and out of people of all ages. Our beach chair is made here in the United State out of top quality wood and finishes with the world famous Sunbrella seat and backing material for great comfort and support. Weight capacity recommendations are not to exceed 250 lbs.
The cost per beach chair is $25/per week when rented with one of our beach canopy packages. See our Beach Canopy packages for further descriptions and prices.
Extremely lightweight for carrying or fit up to 4 chairs on our beach cart.
Price is per week.