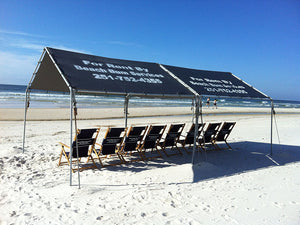 10' x 30' Beach Canopy and 12 Lounge Chairs
Regular price $675.00 Sale
This 10' x 30' beach canopy package is great for larger groups as it comes with 12 wonderfully comfortable lounge chairs that will have you beach relaxing in no time. The canopy is made of a commercial grade materials that are built to withstand strong winds and the harsh beach environment, letting you just relax and enjoy your vacation instead of worrying about putting up or taking down your own beach canopy at the beginning and end of each day. Our staff of professional "Beach Bums" set the beach canopy up before you arrive and come take it down after you leave... how much better can it get! Now you can just show up and enjoy time with family and friends instead of spending countless hours wresting the beach canopy and other beach equipment during your much needed vacation.
In addition to the great comforts of our beach canopy, you should also know that it provides 97% UV protection from the sun's strong rays. We are always asked why the top is gray and not any other colors. It is because the special design prevents the sun's UV rays from penetrating and burning you over the length of the day. This comes in real handy with young children, elderly guests, and all those in between that don't want to get too much exposure during their well deserved beach vacation.
This beach canopy setup leaves room enough for the whole family and then some. Don't let this one pass you by, you'll be glad you got it! Additional chairs can be added to the order at a reduced price of $25.00 each per week. We look forward to seeing you soon!